EDIT MAIN
COVID testing program
Franklin-Essex-Hamilton BOCES has partnered with Franklin County Public Health to provide COVID-19 testing to the seven school districts within Franklin County, New York, as well as our own two schools.
This program is funded by a $1.5 million federal grant aimed at keeping kids in school as much as possible and minimizing the need for remote learning.
Four-day schedule - This is the schedule for weeks when school is in session for the typical five days.
Three-day schedule - This is the schedule for weeks when there's one day off, including the weeks of Nov. 8 and Dec. 20.
Two-day schedule - This is the schedule for Thanksgiving week, when there are only two days of school.
Pool testing
All school staff are required to participate in pool testing once a week, unless they have provided proof of vaccination. Our testing teams are visiting every school in Franklin County every week to test staff and students.
Pool testing is a preventative measure. It's quicker and cheaper to test a batch of samples at once. If a batch of samples tests negative, then the group of people in that pool are all negative. If the group tests positive, each person's sample will be tested again to identify which person or people had a positive result.
Watch this video to learn more about the pool testing we're using:
Symptomatic testing
Our testing teams are also providing testing for those who are showing COVID symptoms. Watch this video to learn more information about the testing we're using for this:
Use the form below to book an appointment for symptomatic testing:
Directions for testing locations
Malone bus garage
Symptomatic testing at the Malone bus garage is in their main offices. We are now asking people to pull up to door 33 at the back of the building facing BOCES and call the number posted there.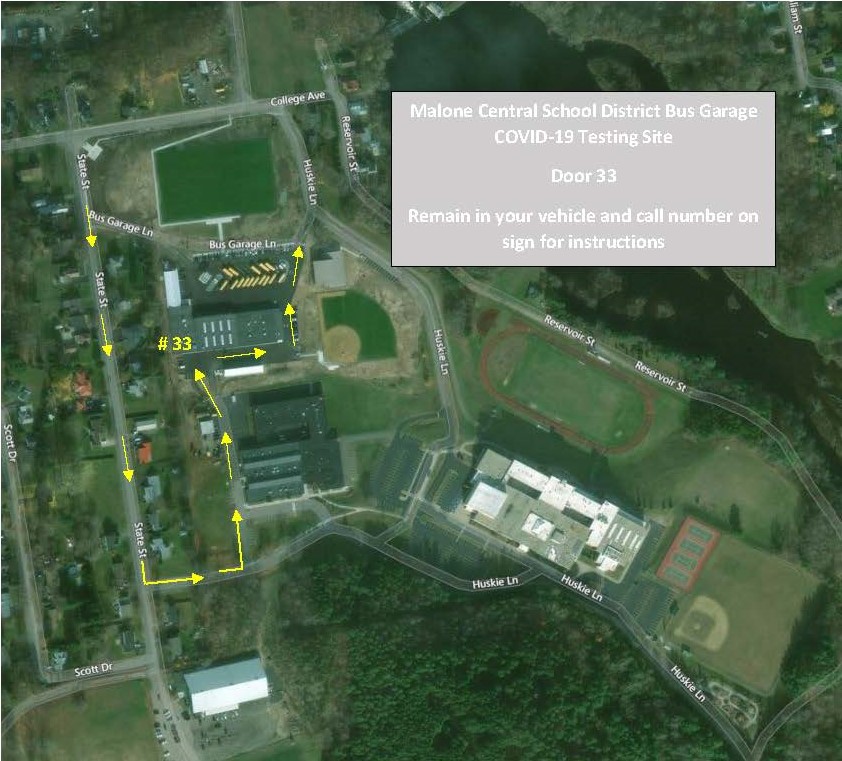 Salmon River