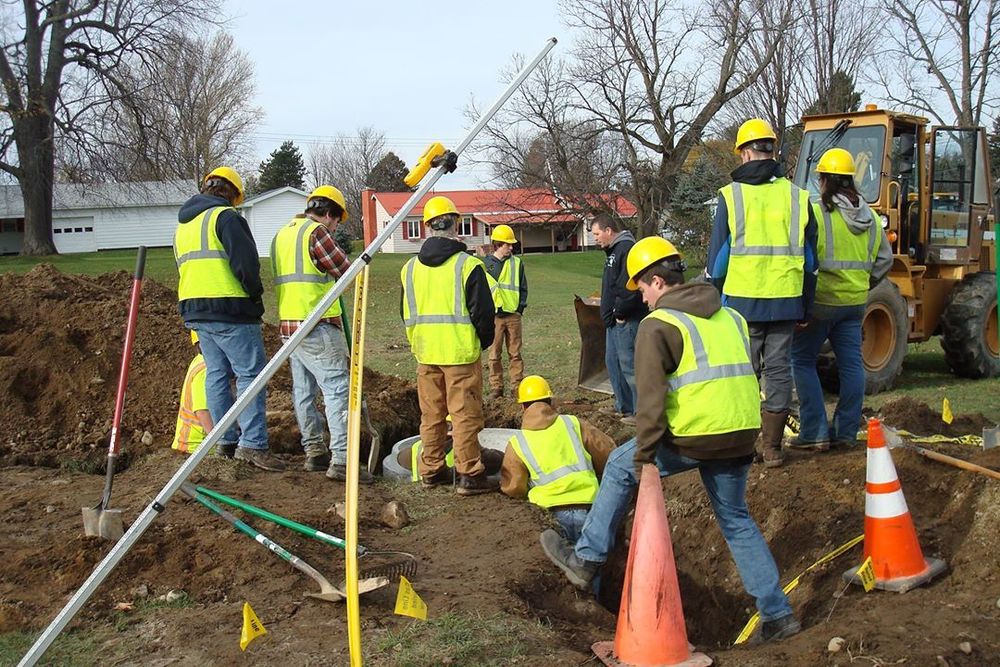 BOCES Students Install Fiber Optic Cable for Civic Center Wireless Internet and Live-streaming
Michele Frazier
Friday, March 22, 2019
Students at the North Franklin Educational Center (NFEC) in Malone learned on the job while working with area professionals to install a fiber optic broadband network to nearby Malone Civic Center. The upgraded internet service facilitates Civic Center live-streaming and provides enhanced wifi to visitors.
Franklin-Essex-Hamilton BOCES District Superintendent Stephen Shafer spearheaded the project last year as part of his institution's community outreach. He approached Jay Perras, President of the of the Malone Minor Hockey Association, to explore ways the school could advance its educational mission in service to FEH-BOCES' neighbor, the Malone Civic Center. Malone Minor Hockey embraced the opportunity to extend their broadband service. "It will make a huge impact in the experience that all community members and visitors have when they visit the Malone Civic Center," Perras said.
Malone Central School District helped to fund this project, which benefits their students and staff as well as the wider community. Jerry Griffin, Superintendent of Malone Central School District, explained, "It's another example of organizations pooling their resources together for the betterment of our community."

Beginning in September 2017, NFEC students from the Electrical Trades and Heavy Equipment Operation programs collaborated with area professionals on this high-quality installation. Before digging could begin, students determined the location of existing gas lines on the site, with guidance from Embridge Corporation in Massena.
Under the direction of Kevin St. Hilaire, Heavy Equipment Teacher, students dug a trench for the multi-mode fiber optic cable from NFEC to the Civic Center. Electrical Trades students, headed by teacher Craig Paquin, ran the fiber from the school to the center, with assistance from Kevin Kerr of the Northeastern Regional Information Center (NERIC) and Brent Jones of Annese and Associates. With the fiber optic cable in place, Alltech Integrations of Potsdam showed Electrical Trades students how to terminate and test the cable.
Kerr explained that 42 students "excavated approximately 1200 feet of trench and coordinated ... to bury the conduit." He praised the "real world construction project and the lessons learned [that] will be with them forever. It is something that the kids can be very proud of."

With new robust wireless coverage at the Civic Center, Malone Minor Hockey can now partner with Livebarn.com to broadcast live and on-demand events at the Civic Center, beginning this fall.
A satisfied Perras observed, "This project was a perfect example of what vision and collaboration can accomplish when community members work together."