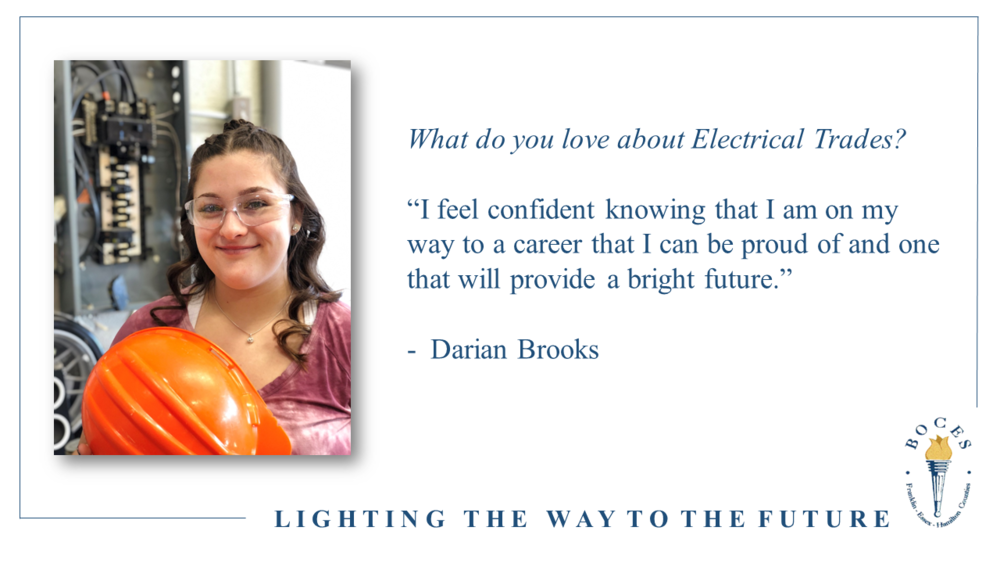 Electrical Trades student earns top rank in quest for apprenticeship
Michele Frazier
Friday, March 22, 2019
Electrical Trades student earns top rank in quest for apprenticeship
FRANKLIN-ESSEX-HAMILTON BOCES·FRIDAY, MARCH 8, 2019142 Reads
FEH-BOCES Electrical Trades student Darian Brooks will graduate high school this year with a clear path to the career she has long dreamed about. As a senior in the two-year Electrical Trades program at BOCES, Brooks applied for an apprenticeship with the International Brotherhood of Electrical Workers-National Electrical Contractors Association (IBEW-NECA). After an exam and interview, Brooks emerged as the highest ranked applicant for an apprenticeship later this year in Plattsburgh.
"I was by far the youngest candidate present, and the only female," Brooks recounts. "It was somewhat stressful to look around and know I was interviewing alongside middle-aged men. The panel that interviewed me consisted of six gentlemen. It made me a little nervous, but I just let my knowledge and personality shine through and hoped for the best."
Electrical work is part of Brooks' history. "My grandfather was an electrician, always doing little projects, and he included me in them. His brother owns Sullivan's Electric here in Malone. I knew those in the trade made a lot of money, and it is a trade that will always be needed. I was young when I knew I was going to be an electrician, but when I came on my 10th grade CTE visit, I knew then I was 100% going to take this course here at BOCES. My Poppy is my idol and it feels so good to know that he is proud of me."


The five-year Electrical Joint Apprenticeship and Training program gives Brooks the opportunity to further her electrical education along with paid employment in her field. "I will be on the job and continue my education, receiving an associate's degree throughout this process." An agreement with SUNY Delhi accepts 51 credit hours of apprenticeship classtime, allowing apprentices to finish an associate's degree with only four general study courses. These courses can be taken part-time and online at SUNY Delhi, costing a little more than $3000 tuition total.
When her training is done, Brooks will gain New York state certification and journeyman electrical worker status which is recognized in every IBEW local in the United States and Canada.


"I like that this is a paid apprenticeship and that I will be receiving benefits and a pension right away. In 10 years, I hope to be fully working in the field and on my way in life. Nice house, vehicle, those types of things. I feel confident knowing that I am on my way to a career that I can be proud of and one that will provide a bright future."
#ThisIsBOCES #FEHB #ElectricalTrades#InternationalWomensDay2019#InternationalWomensDay #girlpower