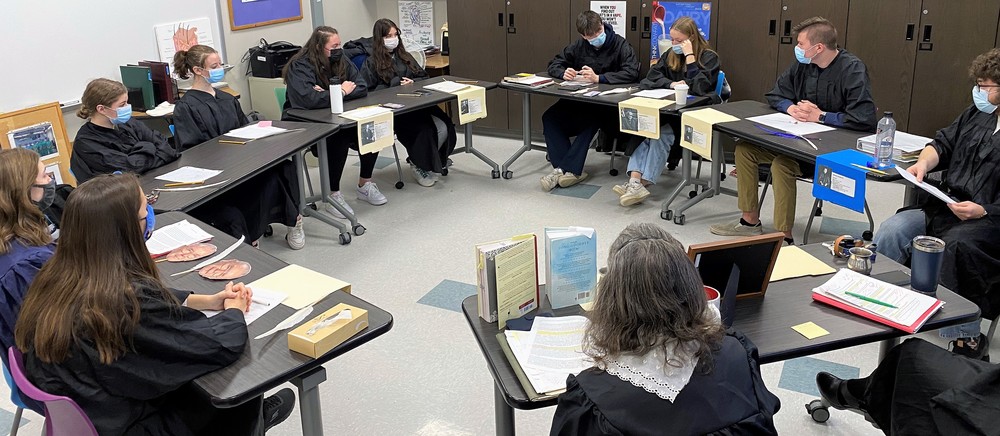 Court is now in session
Franklin-Essex-Hamilton BOCES
Thursday, December 30, 2021
AEC's New Vision Health Care Exploration students got acquainted with the Supreme Court by donning black robes and pretending to be justices.
Students in the program studied 1990's Cruzan V. Director, Missouri Department of Health, the first "right to die" case ruled on by the Supreme Court. Nancy Cruzan got in a car crash in 1983 and ended up in a "persistent vegetative state," meaning her body was technically alive but she had no brain activity. In 1988, her parents asked doctors to remove her feeding tube, leading to legal challenges to ending her life.
New Vision Health students learned about the arguments made in the case and the history of it. Then they got dressed up in black robes (graduation gowns) to get into character, and they read out loud the majority opinion, penned by Chief Justice Rehnquist, that reasons why the court ruled the way it did.
Students also read the two dissenting opinions, which lay out the reasoning from the judges who voted against the majority, and two concurring opinions, which give extra reasons for agreeing with the majority, that were issued in the case.
This activity is rich with lessons for students. Social Studies Teacher Alexandria Harris and New Vision Health Teacher Alison Riley-Clark partnered up to teach the unit, because it looks at the intersection of law and healthcare. Some other important lessons include:
How the Supreme Court functions.
The types of topics the Supreme Court covers and the scope of power the court has.
The mechanics of what happens when the Supreme Court hands down a decision.
The medical aspects of end-of-life care.
The importance, both legally and medically, of making sure patients have advanced directives in place so healthcare providers know the patient's wishes.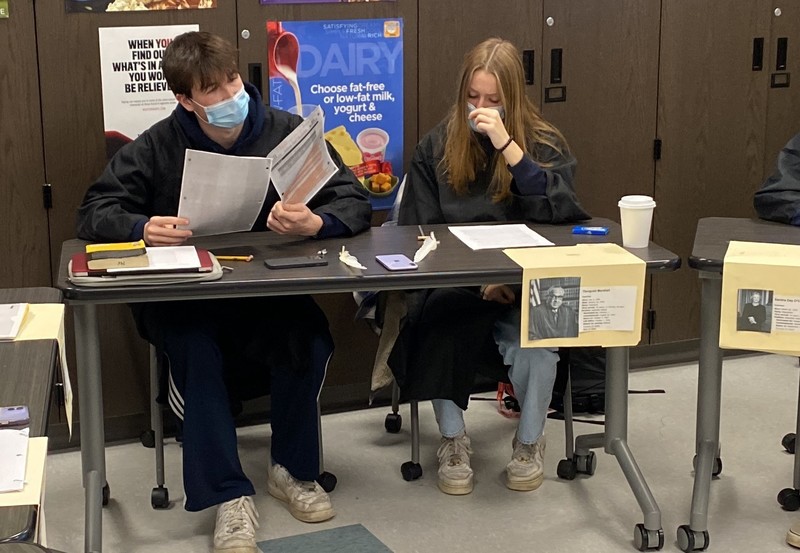 New Vision Health is a one-year, half-day program for high school seniors in the region. It gives students interested in health care careers opportunities to learn about and try out various aspects of the industry before heading to college. The program in Saranac Lake is based out of Adirondack Medical Center, the local hospital, to give students the greatest amount of exposure to the field.
Franklin-Essex-Hamilton BOCES offers New Vision Health Care Exploration in Saranac Lake and Malone.