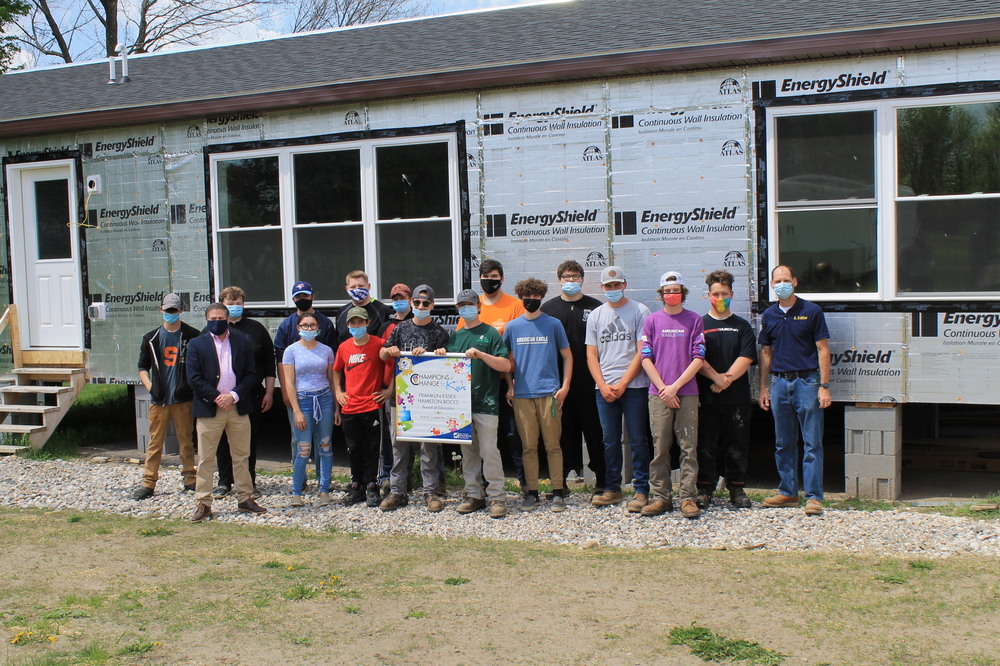 NYSSBA honors FEH BOCES for virtual program
Franklin-Essex-Hamilton BOCES
Wednesday, May 19, 2021
The New York State School Board Association honored Franklin-Essex-Hamilton BOCES Tuesday for implementing a creative new program to help one of its programs function better in the pandemic.
FEH BOCES started using a virtual carpentry program last year at North Franklin Educational Center in Malone. Teacher Eric Ashlaw implemented the new tool from the North Atlantic States Regional Council of Carpenters that moves his curriculum online, making it easier for students to access if they learn remotely due to school closings or COVID quarantines.
"We at NYSSBA have been impressed with the creativity and versatility that teachers have shown over the last year," said NYSSBA Member Relations Manager Patrick Longo. "The last year has been tough and it has been easy to find negativity, but a lot of positive work has come out of the pandemic, too. We created the Champions of Change program to shine a light on those things. Mr. Ashlaw has done excellent work to make sure that his students can learn a very hands-on field wherever they are."
"I was particularly attracted to this program because it gives students a leg up when they head into the field and join the carpenters union," said Ashlaw, who teaches full time but still has his union membership after 18 years of working in the field. "The way it ties learning concepts to hands-on projects helps students understand the theory behind what they're doing."
Through the web-based curriculum called Career Connections Learning Management System, students read through a unit about a foundational concept of carpentry, then do a hands-on project that reinforces the ideas they learned. The program goes through each facet of carpentry, from floors to wall framing to roofing and siding.
Ashlaw's Building Trades is one of 11 Career and Technical Education courses of study offered by FEH BOCES, half-day programs for juniors and seniors.
The virtual carpentry program is set up for grades 8 through 12. Ashlaw hopes to work with technology teachers at local school districts to implement a version of it for middle school students with interest in carpentry so they can start building the foundations of knowledge early.
"We're so pleased to partner with FEH BOCES to implement Career Connections," said Matt Osborn, representative for Local Union #291 chapter of the North Atlantic States Regional Council of Carpenters. "Our field is growing, and we want to encourage young people to explore all the opportunities available to them."