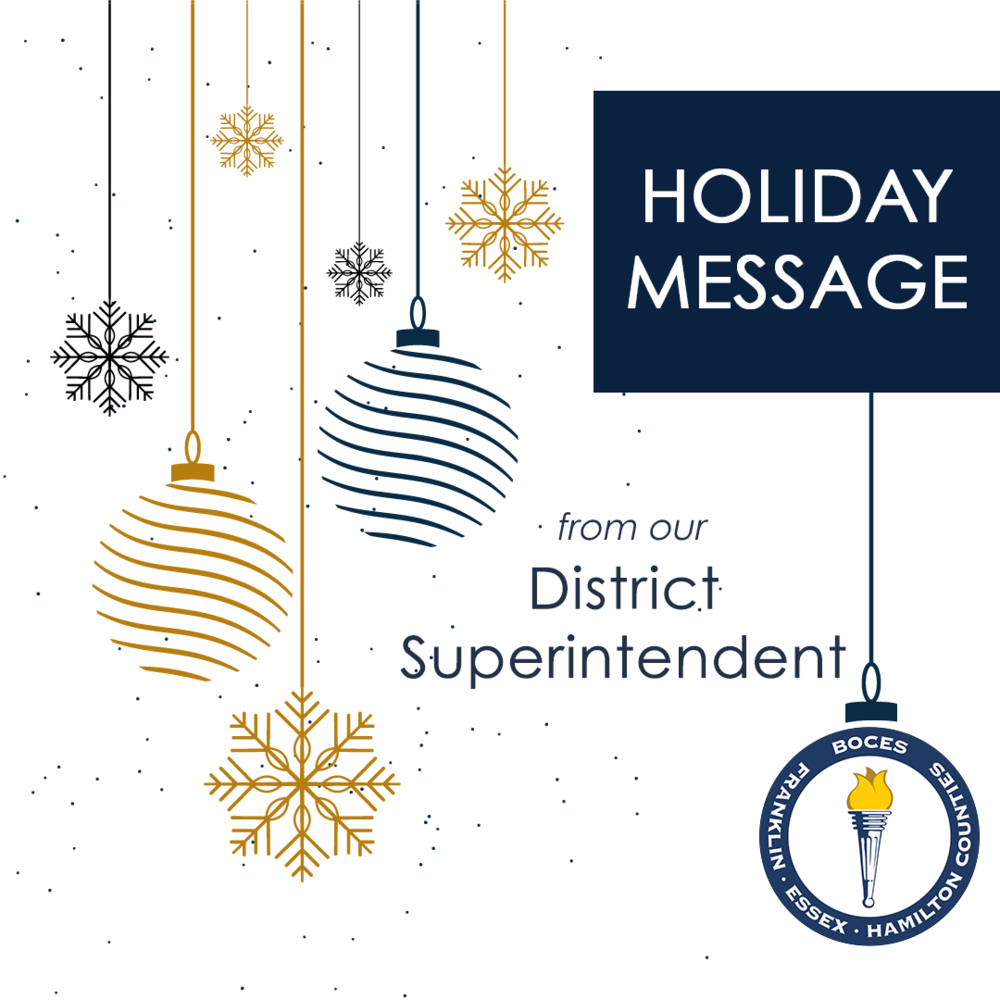 Saying toodleoo to 2020: a holiday message from the district superintendent
FEH BOCES District Superintendent Dale Breault
Wednesday, December 23, 2020
I think we're all at least a little relieved to see this year finally be done. It's been a difficult year for most of us. Our staff and students have missed out on the social connection they normally feel in school. Even when we're in the school buildings, we have these masks between us, and have to keep our physical distance. It's not easy – people are social beings, and students learn through connection.
Parents have been forced to be incredibly flexible, working with us to make sure their child gets an education while doing their jobs from home or finding daycare at the drop of a hat.
The FEH component superintendents and I have faced a lot of incredibly tough decisions. I don't know if we always made the right ones. But I can say that with every decision we made, we were trying to do what was best for our students with the information we had at the time.
For all of those reasons and many more, I think you'll all join me in saying good riddance to this year.
Accomplishments
But before we say goodbye to 2020, I want to take a moment to acknowledge that some really great things happened this year, too.
Our teachers showed remarkable creativity as they adapted to remote teaching. They found innovative ways to remotely continue the hands-on education that we pride ourselves on in our classrooms. In some cases, they even found technology or strategies that worked better than what they had been doing in the normal classroom environment.
Our instructional support staff has thrived. They have found countless ways to support teachers through the pandemic. They even created an entire online platform that provides teachers with useful resources and help them learn from one another.
With our capital project, we completed significant upgrades to the Adirondack Educational Center in Saranac Lake. We're close to wrapping up the additions and upgrades to the North Franklin Educational Center in Malone.
In June, 82 students completed their programs at AEC, and 132 students completed their programs at NFEC. While COVID-19 affected our "traditional" graduation ceremonies, the personal touch we were able to give to each student in our programs felt more special than ever. These young adults left our schools with technical knowledge and skills that will help them accelerate past their peers in their chosen field. We are so proud of them.
And we are proud of the infinite other, smaller accomplishments that all of our students and staff have made over the last year. I keep an Outlook folder where I store any compliments emailed to me about any of our staff. Click here to read kudos that I collected in 2020 . I love to hear this kind of feedback, and I encourage everyone to reach out if you want to share something great an FEH BOCES staff member did, highlight how helpful they are or otherwise honor them.
2021
I would usually encourage you to rest and recharge with family and friends over the holidays but, if we learned anything from Thanksgiving, COVID is still very real and gatherings led to outbreaks. I hope that you'll find ways to celebrate, relax, and enjoy the holidays while keeping you, your family and our community safe.
As we head into 2021, things are starting to look up. News about vaccines have been promising, and I hope that before long, COVID-19 won't be a daily disruption to our lives.
But there's still some time before vaccines will be available widely. Until then, we need your help to keep our students in school. Please follow best practices set forth by health officials: avoid gatherings, stay home whenever possible, and if you have to go out, stay at least 6 feet away from people and always wear a mask.
I hope we can head in to 2021 embracing the spirit of creativity, innovation, adaptability that we were forced to develop this year. Let's continue to look for ways to improve our learning experiences, and let's continue to find ways to support and help one another.
Happy holidays!