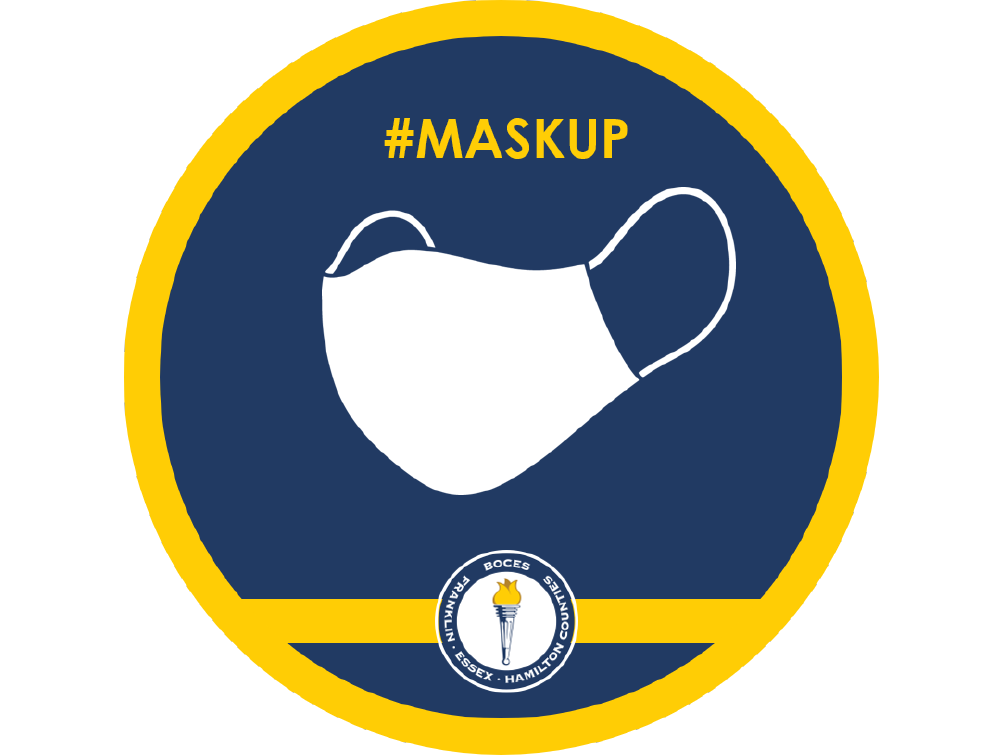 With COVID protocols adjusted, Franklin County schools will switch back early to in-person learning
Franklin-Essex-Hamilton BOCES
Wednesday, December 02, 2020
School leaders in Franklin County have decided to bring students back into school buildings early after seeing progress in COVID-19 protocols throughout the county.
Schools will start bringing students back Monday, Dec. 7. Most will use a phased approach that will continue through Dec. 10.
Franklin County's school districts shifted to fully remote learning in November, when officials from Franklin County Public Health asked school district superintendents in the county to help them slow the spread of COVID-19 cases. At the time, schools weren't ready to meet the state testing requirements if the region were to be designated a yellow zone, and public health staff were too busy with contact tracing and other efforts to slow the virus spread to help. School leaders initially said the pause of in-person learning would last through Jan. 4.
Since then, the landscape has changed. Studies and data have shown that schools are usually safer than the general community. Many government officials have embraced that data and are advocating for students to stay in school as much as possible.
In consultation this week with public health officials, the superintendents of the seven school districts in Franklin County and the district superintendent of Franklin-Essex-Hamilton BOCES made the decision to bring students back to in-person learning.
Testing
A major reason schools paused in-person learning was that the state had imposed testing requirements that local schools wouldn't have been able to meet. At the time, Franklin County was approaching a yellow zone designation, which would have meant that schools had to test 20% of staff and students every week.
Since then, the state has let up on its protocols, only requiring schools to test 20% of staff and students once over a two-week period. They don't have to test again after that as long as the result of the testing shows the infection rate to be lower than the surrounding community.
Over the last few weeks, school officials have worked hard to create plans for testing 20% of their staff and students. School nurses and other designated staff are getting trained on the specific tests that the county has in stockpile for when schools needs them. Staff are also getting set up in the data reporting systems and lining up other administrative procedures.
If students and staff end up having to be tested, they won't have to get the deep nasal swabs that many have come to associate with COVID-19 testing. The testing equipment the county has on hand for schools are rapid tests that only require a shallow swab right inside the nostril, and results are ready in about 15 minutes.
Moving forward
In the future, Franklin County school leaders plan to shift kids to remote learning on a case-by-case basis. They will start with individual classrooms, then go on to schools if necessary, and then to districts. Data has shown that focused isolation has been effective.
School leaders will continue to pay close attention to local infection rates and make decisions based on their specific circumstances, which can vary widely across the region. If an area once again reaches community spread, which is when health officials can't identify where a specific infection came from, it's entirely possible that individual school districts will shift again to remote learning.
The group of school districts don't plan to pause in-person learning again as a whole, unless there is a mandate from the county, state or other entity.
Keep kids in school
School officials are proud of the citizens of Franklin County for taking steps to reduce the spread of COVID-19. Infection rates are once again under control, and this success means that students can get back to their preferred way of learning.
Leaders at each of the school districts in the county ask the community to follow the basic guidelines to prevent COVID-19 spread:
Stay home whenever possible
Don't host or attend large gatherings
Stay 6 feet away from people from outside the household
Wear a mask in public
Wash hands regularly
With cooperation from its citizens, local communities should be able to keep kids in school.